Saturday, July 23, 2011
This one is called Bloomin Cute! You can find it
here at Scrapbooks Gone Digital
.
Posted by

Nicole
at 8:52 AM
No comments:

Here's a great kit for you!
Apple Days by Vivane at Scrapbook Gone Digital
! I love the apples in this kit and the bright bold colours!
Posted by

Nicole
at 7:56 AM
No comments:

Monday, July 4, 2011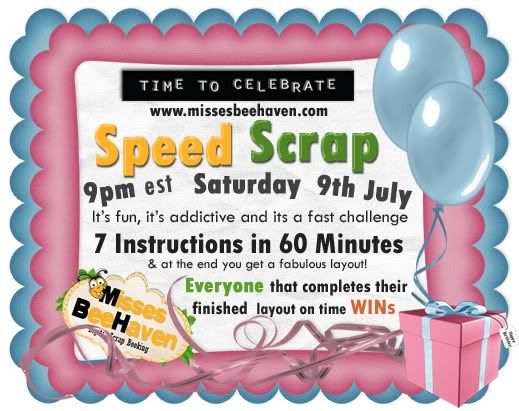 Posted by

Nicole
at 2:12 PM
No comments:

Posted by

Nicole
at 1:46 PM
No comments:

Friday, July 1, 2011
The Bee Haven birthday blog train has departed from
Misess BeeHaven
, and for my station stop I have this freebie for you.
DOWNLOAD HERE
This is my first Blog Train, and I super excited to be a part of it!! I hope you all enjoy the Alpha I made!
Stop by all the blogs to pick up all the wonderful freebies the team have waiting for you!! :) at all the stops on the celebration at Misses BeeHaven during July of the Bee Haven train! And don't forget to leave a word of thanks when you download. It's your words of thanks that encourage everyone to keep the freebies rolling on this train!
Pssttt.. If a link is not yet ready at a train stop please visit again tomorrow as we are all in different times over the world.
BeeHaven Designz -
http://www.beehavendesignz.com/
Designs By Abbe (Iwannaife2) -
http://designsbyabbe.blogspot.com/
DigitalDesignsByLiz -
http://digitaldesignsbyliz.blogspot.com/
Jacquie -
http://atjacquies.wordpress.com/
Karen Scraps & Graphics -
http://karensscrapsandgraphics.blogspot.com/
LaurenMarcelle -
http://laurenmarcelle-digital-designs.blogspot.com/
Mrs. Bou -
http://mrsbou.blogspot.com/
YOU ARE HERE
MissesBeeHaven -
http://www/missesbeehaven.com/blog/
Meetjedesigns -
http://meetjesscrapblog.blogspot.com/
In The Small Things -
http://inthesmallthings-scraps.blogspot.com/
Posted by

Nicole
at 6:35 AM
4 comments: