Greetings Everyone!! Are you ready to have some fun? It's our second annual Scrap~A~BOO event.
SUNDAY October 28th
9pm Eastern Time
8pm Central Time
7pm Mountain Time
6pm Pacific Time
This will not be your traditional Bingo!! We are going to speed things up a bit.
To start off, I will post a list of the first 5 numbers. Then, every 2 minutes, I will post 3 numbers at a time. If no one has called a BINGO by 25 minutes after the hours, I will start calling out 2 numbers at a time.
The first person to post BINGO, wins!!!!

Depending on the number of people that sign up to play--- we will up the prizes
* up to 5 players: "BLACK OUT BINGO" wins a $15 Gift Certificate to Scrapable.
* 6 - 9 players - we will also play for: "FOUR CORNER BINGO" winning a $10 Gift Certificate to Scrapable.
* 10 or more players - we will add: "LINE or DIAGONAL BINGO" (Traditional) " winning a $5 Gift Certificate to Scrapable.
Be sure to tell all your friends!!!
Here's the clincher - you can only win Once!!!! So, if you get a line BINGO, you have to decide, "Do I want to wait this out to see if I get a four corner or blackout???"
Here is the
BINGO Package
Fill in your BINGO card with 24 numbers from 1 to 60.
Email your card to:
bev@scrapable.co
(Please put "Scrapaboo Bingo" in the subject line.)
**I must have your card no later than 2 hours prior to start of the game.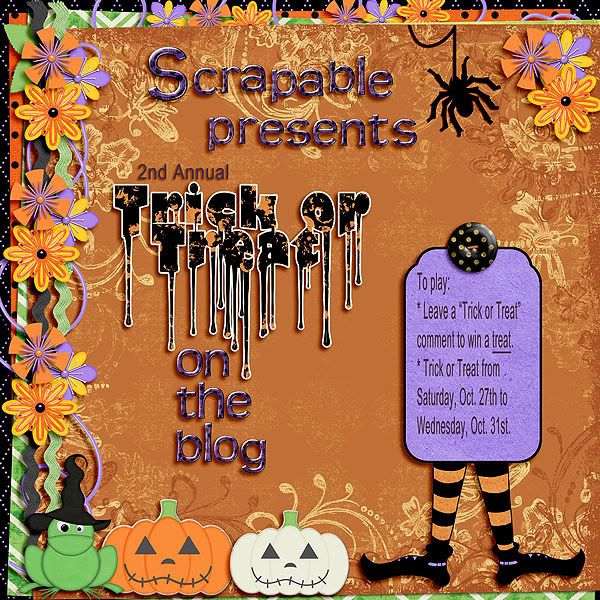 Starting Saturday, October 27th, through Wednesday, October 31st, there will be a special blog post for "Trick or Treaters". All you have to do to be eligible to win is, leave a comment on that "Trick or Treat" blog post. Be sure to include your email address so we can contact you if you win!

At the end of the day, we will randomly select one of the comments and the winner will be posted the next day as an addendum to the blog post. The winner will also be contacted by email with instructions on how to redeem their prize.
100's of items on sale for only $1! Here are just of few...